Studio: MEN.com
Actors: Calvin Banks, Trent King, William Seed, Matthew Parker, Ian Greene
Running Time: 01:33:18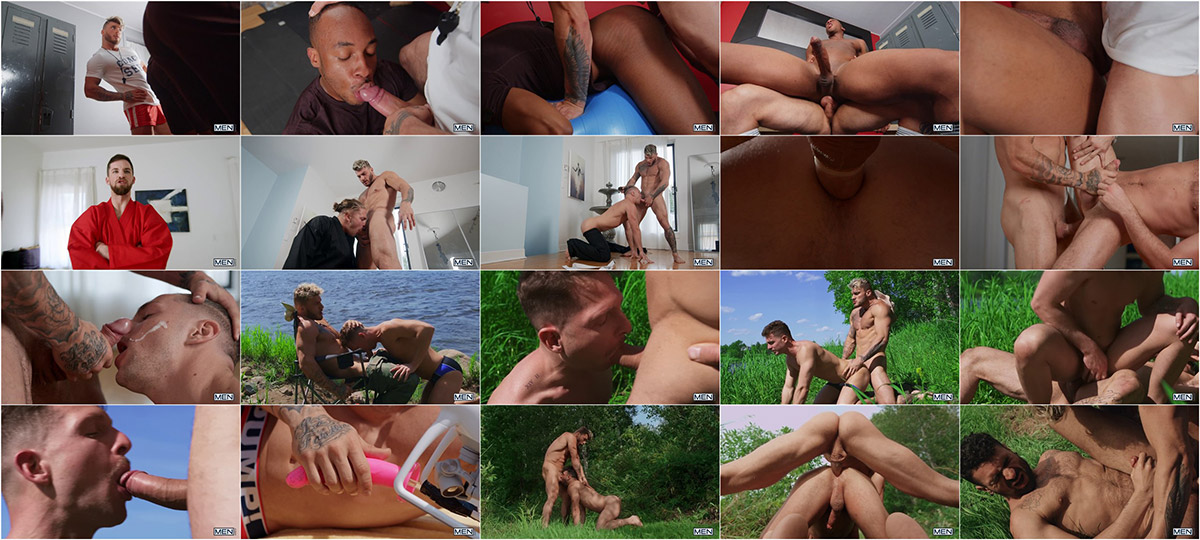 Description:
Ebony athlete Trent King isn't sure what to expect from the new soccer coach, William Seed, but he hears he's a real hardass! When William arrives and wordlessly makes Trent and his teammate do pushups and squats, that's confirmed: Trent can't stop staring at William's hard ass. Soon, William is teaching Trent a new way to do sit-ups by sucking his cock every time he comes up! After a messy blowjob, William fucks Trent doggystyle over a fitness ball, then tells him to squat on his dick. Calvin Banks wants to become as strong as his sensei William Seed, but when their dojo is threatened by an agent of the nefarious Red Dojo, he's unable to do more than take punch after punch until William uses his One Hundred Cock Face Slap on the intruder. Calvin gets right to work with a sloppy blowjob, then takes a doggystyle pounding before using the dojo's sling to get into ballerina position. Sensei William fucks Calvin in suspended missionary and makes him cum, then rewards his dedicated student with a huge facial! Muscle stud William Seed is the complete angler, taking a seat by the river in his waders to try and catch something worth writing home about. However, when mustached hottie Matthew Parker sits down beside him the men realize they have bigger fish to fry than the ones in the river. Matthew worships William's cock with his mouth and hole until he shoots a thick, creamy cumshot across his face. Hairy hunk Ian Greene wants a nice quiet day to tan nude all alone at the beach, so he's quick to dismiss William Seed when he asks to borrow some lotion. Undeterred, William decides to have a little fun by playing with his drone…and taking the attached dildo in for a landing in Ian's ass! William fucks Ian with his real cock nice and hard in doggystyle and missionary till Ian cums, then has him ride his dick before cumming in Ian's mouth.