Studio: MEN.com
Actors: Bryan Matthews, J.J. Knight, Shane Jackson, Jake Porter, Trevor Laster, Jax
Running Time: 02:06:56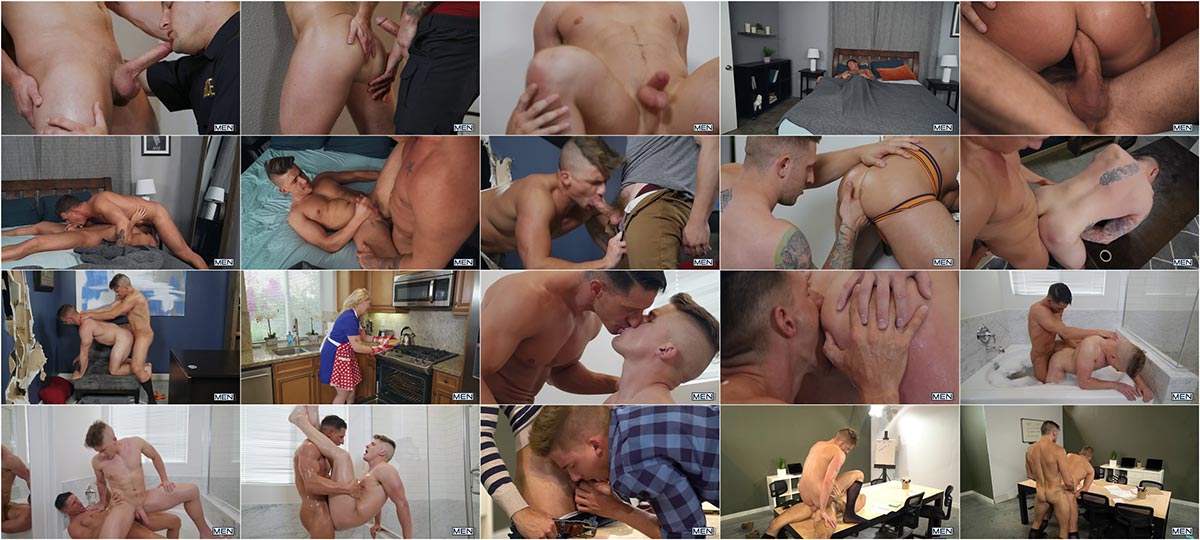 Description:
Jake has been brought into the station under suspicion of robbery and hunky police officer Trevor Laster isn't letting him go without an interrogation. Trevor peels off the bad boy's clothes, giving his thick cock a long and slow blowjob that makes Jake moan. Trevor bends over the eager offender, shoving his cock into Jake's tight ass. Jake spots his straight buddy JJ Knight in bed and hard as a rock and decides to give a helping hand. Jake slips a blindfold onto JJ and convinces him that he's JJ's girlfriend before tugging his big curved cock. When JJ realizes that the soft warm lips wrapped around his dick don't belong to his girlfriend, he has to admit that he likes the way it feels and tells Jake to keep going. Jake is getting loose and limber as he prepares for a hot night out. Jake trips and ends up stuck through a wall. Bryan Matthews tries to help Jake out, but when he realizes how wedged in the stud is, the two decide that they may as well make the most of it. Jake gives Bryan a sloppy blowjob, spitting and slurping his thick cock. Bryan tears open Jake's pants and plows his ass from the other side of the wall, pounding him so hard that both studs break through, freeing Jake to show Bryan how grateful he is. Jake is just trying to take a steamy bubble bath in peace when he's interrupted by his bossy new step-dad, Jax. Jake goads Jax into giving him a spanking over the side of the tub, daring the chiseled hunk to admit that it's turning him on. Jax can't resist the hard-bodied cutie, fucking him hard and deep in the bubble bath while Jake begs for more. Jake gets caught in a game of footsie during a work meeting. Jake is so horny that as soon as the others leave, he jumps right up onto the table so he can pull athletic Shane's long cock out, and into his mouth. They 69 right there on the table blowing each other's hung dicks before Jake sits his eager ass right on top of him for a stiff ride.