Studio: MEN.com
Actors: Dex Parker, Markus Cage, Marco Bianchi, Sunny D
Director:
Running Time: 01:11:40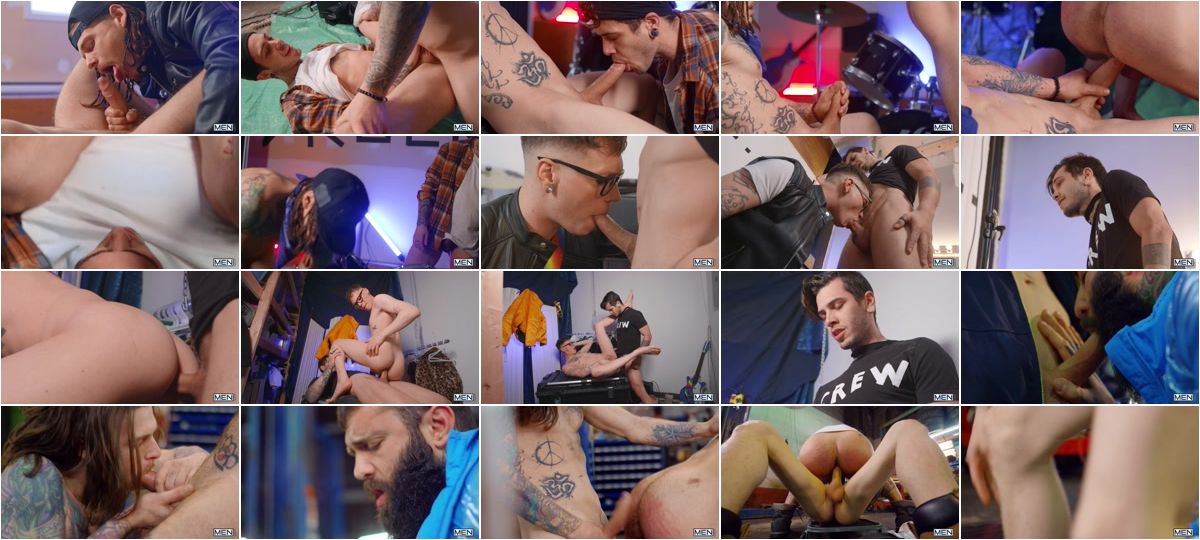 Description:
Guitar-slinging rocker Sunny D gives rehearsal his all, so he wishes drummer Dex Parker would do the same. When Dex rolls in to practice late with a bad attitude, the frontman has to show him who's boss, putting his junk on Dex's skins, then pulling down the drummer's jeans and slipping a drumstick in his hole! Sunny sucks the bottom's cock, then fucks his ass, teaching Dex a lesson in rhythm. Dex devours Sunny's cock, then rides him reverse before taking that dick deep in piledriver. Sunny slides a drumstick between Dex's teeth as he pounds him in doggystyle, and when Dex cums, Sunny pulls out for a solo finish on his face.Groupie Marco Bianchi sneaks backstage to try to impress his favorite band with his guitar skills, but instead he's discovered by roadie Dex Parker. Marco offers Dex a blowjob in exchange for the chance to meet the band, and although Dex is just one of the crew, he's got a rockstar cock. The guys sneak off to the dressing room, where Dex fucks Marco doggystyle, then the bottom rides the roadie. Dex pushes Marco up against a crate to fuck his hole piledriver, then lays him on top of it to pound the bottom till he cums. Marco takes a big facial from Dex all over his glasses, and he's ready to keep fucking his way right to the top.When musician Markus Kage comes into Sunny D's repair shop, rudely snapping his fingers for service, it doesn't make the mechanic inclined to drop everything to fix his tour bus. Markus swallows his pride and gets down on his knees, and soon he's swallowing Sunny's dick. Sunny puts Markus up against a car and sucks his cock, then turns him around and penetrates his hole doggystyle. The mechanic lies down on his creeper so the bottom can ride him, then pushes up Markus's legs to fuck him missionary, making the bottom nut. Sunny blows his load on Markus's beard.