Studio: MEN.com
Actors: Dante Colle, Pierce Paris, Chris Damned, Jason Vario, Adrian Hart, Joey Mills, Tannor Reed, Devin Trez, Markus Kage, Archie, Jeremy London, Shane Amari
Running Time: 01:43:59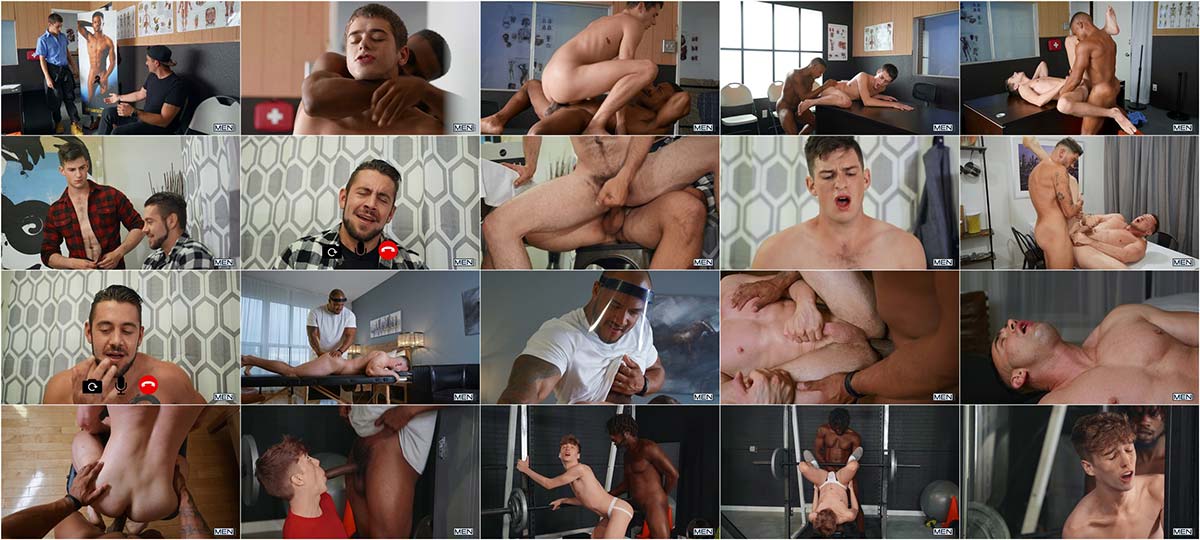 Description:
Adrian Hart has never seen a hand sanitizer dispenser like this one before: a realistic, jizzing dildo mounted to a poster of a naked man! After playing with it a bit, he removes the dildo and stands behind the poster where he can poke his own cock through the hole. Dante Colle and Archie are about to eat Thanksgiving dinner, but Dante asks Archie to hide so he can video call his boyfriend, Chris Damned, first! As Dante chats with his man, he can't see that at the other end, Pierce Paris is on his knees sucking Chris's dick. Archie impatiently rubs Dante's dick, then gets his cock out and rubs it on Dante's arm, while Chris bends Pierce over the kitchen island and fingers his hole. As Dante hears Pierce's moans and Chris hears the sound of Archie sucking Dante's cock, both guys mute the connection to fuck their respective bottoms! Dedicated masseur Jason Vario takes every precaution to keep his clients safe, wearing a face shield and gloves as he sterilizes his table before inviting Shane Amari to lie down. Jason oils up Shane's back and gives him a sensual rubdown, moving his strong hands lower to work Shane's ass and slide a finger inside. Shane makes a hole in his mask so he can suck Jason's cock without even taking it off, then the strong top penetrates him missionary. Twink Tannor Reed gets horny just looking at hunk Devin Trez working out next to him at the gym. Devin asks Tannor for a spot, which gives him the chance to show off his big cock hardening in his shorts! Tannor can't resist and sits on Devin's face, then gives the hung top a blowjob. Jeremy London is late for an important video meeting, so he hurriedly puts on his boxers and a shirt as he looks for his laptop. His boyfriend Markus Kage chuckles. As Jeremy tries to stay professional with his boss, the naughty top crawls under the table, rips a hole in his man's drawers, and slips the vibrator into his hole!