Studio: Falcon Studios
Actors: Kenzo Alvarez, Upton Sterling, Maverick Sun, Bruce Huxley, Enzo Muller, Nate Rose, Clark Delgaty, Skyy Knox, Olivier Robert
Director: Raph North, Iza Elle
Running Time: 01:56:26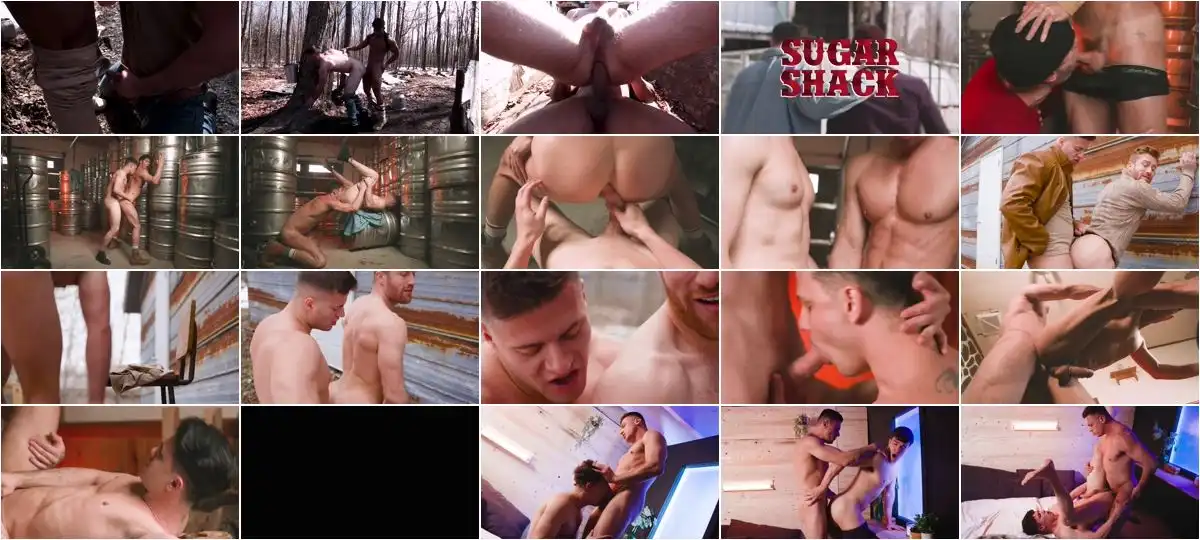 Description:
Experienced syrup-making studs and curious newcomers from all over are seeking to satisfy their sweet cravings by heading to Falcon's 'Sugar Shack'! Join acclaimed directing duo Iza Elle and RaphNorth as they head up north to follow nine delicious men who are making their way through every step of creating the perfect batch of maple syrup and all the sugary confections that come with it. Kenzo Alvarez and Upton Sterling are first tasked with collecting sap from the forest of tapped trees, but that doesn't mean Kenzo doesn't have time to tap Upton's hole in the middle of the snow-covered woods. Next, Skyy Knox is teaching newbie Maverick Sun everything he needs to know about maple syrup production, but, after watching the muscle twunk lift a few barrels, he has some other activities in mind. Another newcomer, Olivier Robert, then takes to the great outdoors with boyfriend Clark Delgaty to sample a sweet, snowy treat and every throbbing inch of his lover's cock. When it comes time for the feast, Enzo Muller lets Bruce Huxley know how impressed he is by the local's Canadian hospitality – and the stiff dick that Bruce is concealing in his pants. Once all is said and done, Maverick Sun takes the evening off to celebrate a marvelous sugaring season, dance the night away, and have fellow sugar-maker Nate Rose cover his naked body in some sweet, sweet jizz.