Studio: Raging Stallion Studios
Actors: Edward Terrant, Gabriel Clark, Markus Kage, Ryan Bones, Teddy Torres, Tony D'Angelo, Travis Connor, Windom Gold
Director: Iza Elle
Running Time: 02:11:05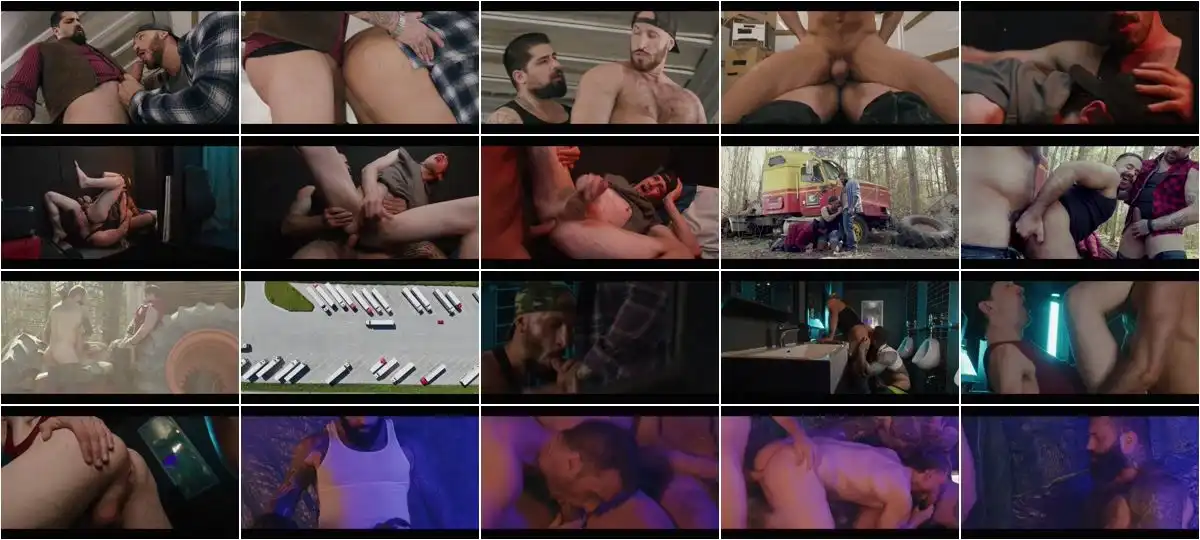 Description:
Whether you're a trucker fucker that's lurking in a public restroom for some driver dick or just a guy on the road looking to put your cock in another man for the first time, these truck stops have enough 'Truck Loads' to go around. From acclaimed director Iza Elle, this bareback film follows eight men that are ready to hit the highway and fuck every available hole on their path. When trucker Travis Connor pulls up late with his delivery for burly daddy Ryan Bones, he immediately drops to his knees to show his client why he was worth the wait. At a truck stop down the road, young vagabond Edward Terrant is so desperate for somewhere to sleep that he's offering up his hole to driver Teddy Torres for a chance to stay in his cabin. Teddy Torres just dragged hairy truck drivers Markus Kage and Ryan Bones to the middle of the woods for no reason, so to make up for wasting their time, he's stripping naked to get stuffed at both ends. A quick exchanging of looks with Travis Connor in a dim truck stop restroom quickly leads to Tony D'Angelo pounding the trucker's face, breeding his muscular ass, and leaving the second he's finished watching his seed pour of his used hole. Still needing to bust a nut himself, Travis Connor finds Edward Terrant jerking off in a nearby stall and decides to blow ropes all over of the young traveler's insides. While taking a break at the freedom Convoy protests, Markus Kage and Gabriel Clark find themselves talking about sexual experimentation with Windom Gold, leading to them both using Windom's holes to satisfy their throbbing members. As anyone driving by these stops can see, these insatiable men are more then willing to share their oversized 'Truck Loads' with any open and available hole that comes their way.