Studio: Trailer Trash Boys
Actors: Mason Lear, Chris Damned, Vince Parker, Jake Nikola, Beaux Morgan, Isaac X, Logan Cross, Johannes Lars, Devin Franco, Myles Landon, Dmitry Osten
Director: Anthony Duran, Trenton Ducati, Jasun Mark
Running Time: 01:46:46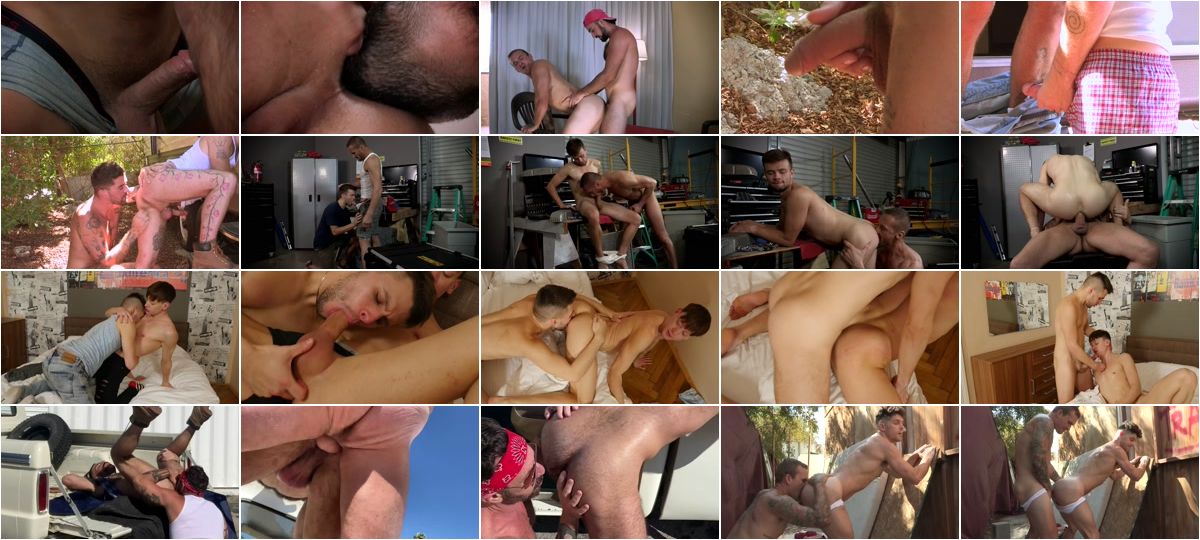 Description:
You man enough to put your ass on line? Them dirty boys over at Lot 45 are at it again. If they're not sneaking away for some dick on their break, they're playing games where the loser gets dick and the Winner Takes Hole. That's how we roll at Lot 45. Mason and Isaac decided to play a game of caps to see which one of 'em was gonna be taking the dick. Isaac was hoping he was finally gonna get in Mason's hole but nope… Mason wins again. Third time this week. Don't worry none about Isaac. He knows how to take a dick. Living at the trailer park we have a lot going on… some guys working, some guys just lazing around in the sun, some waking up early and guys like Chris who works all night and sl–ps most of the day. This morning he woke up with a semi-boner… and don't ya know the new guy Beaux was wanting to take a smoke break. Well you know Chris… he don't like a new piece of ass to pass by without getting a taste for his self. Chris gave Beaux a good stiff dick up the butt and then told him to go get his ass back to work.Uncle Myles is always a lot of fun to work with, but usually in the middle of the day his dick gets hard and then one of them boys is gonna have to suck it for a bit and then take it in the hole. Today's lucky winner was Logan who had no idea he was gonna get his ass fucked before Myles grabbed him and pulled him into the workshop for some fun. Hot European boys Johannes and Dmitry share a quick fuck, showing off their uncut dicks and fucking bareback. Vince Parker and Jake Nicola are having some fun fucking in the hot Southern California Sun when they're supposed to be working, but fuck it… they wanna have some butt fucking fun. Yeah, Trailer Dale catches them in the end but it was all worth it. Isaac and Devin are back at it again. Remember when Isaac lost a game with Mason and got a stiff dick in his butt as punishment? Well, this time he wasn't taking no chances. He might have been cheating at cards with Devin, but he ain't telling… all we know is he won and his prize was Devin's mouth and hole. So Devin took it like a man while Isaac plowed his hole hard and fast and then unloaded a big wad of cum in it.