Studio: William Higgins
Actors: Ben Stolar, Hugo Antonin, Ivan Zrzek, Ivanek Ukara, Mojzis Kral, Roman Baren
Director: William Higgins
Running Time: 00:59:06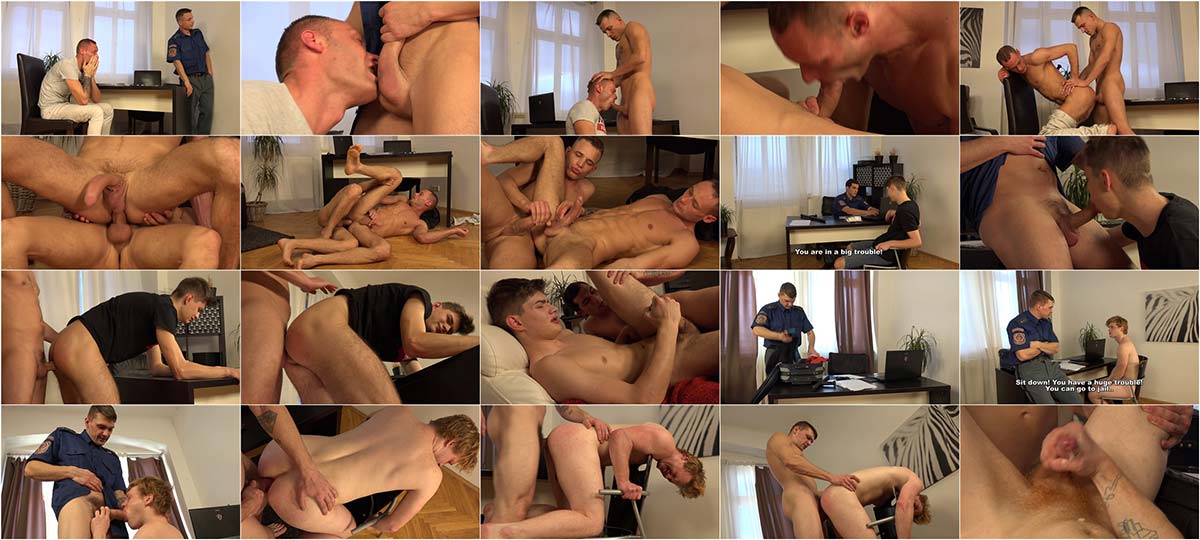 Description:
Hugo Antonin oversees Airport Security today. Roman Baren is sent in to see him, from passport control. It seems that his passport is badly damaged, and Hugo is not inclined to allow him to travel. Roman decides to offer a bribe, of money, to ensure that he can travel. Hugo takes the money but tells Roman he is in big trouble for trying to bribe. But Hugo, of course, has a solution and that involves him opening his pants to pull out his big, hard, cock. Roman must suck it to avoid trouble. After much effort Hugo manages to get his cock in Roman's mouth. Roman, submits and begins to suck that big cock. He takes it well and Hugo fucks his dick deep into his mouth. Ivanek Ukara oversees Airport Security when Ben Stolar is sent in to see him. It seems that there has been a problem with Ben's passport. Ivanek checks it and finds that it is not valid, so Ben cannot travel. That offer gets him into trouble and Ivanek can only think of one way to avoid the trouble. Ivanek explains that he is horny and, despite Ben's protestations insists that his dick is sucked. He exposes his cock and pulls Ben's head onto it. That cock is soon rock hard as Ben's mouth works on it. He sucks on Ivanek's balls. Mojzis Kral is in charge of Airport Security and has to check some luggage. He opens the suitcase and starts to check whatever is inside. After doing a thorough search of the case, he finds a knife in the luggage. Mojzis is very thorough and decides he needs to search Ivan's body too. He tells him to strip naked. Mojzis feels all over Ivan's naked body and explains that he is in trouble. Ivan, it seems, really needs to catch his flight and is ready to do almost anything. Mojzis opens his pants and pulls out his big, stiff, cock. The only way for Ivan to get on the plane is to suck that dick. Despite his protestations he soon has that big, fat, cock in his mouth.