Studio: BROMO
Actors: Ricky Larkin, Bo Sinn, Ryan Bones, Eoan Wolfe, Alex Montenegro, Killiam Wesker, Jesse Prather, Rocky Vallarta, Logan Styles, Collin Lust, Thyle Knoxx
Running Time: 02:12:30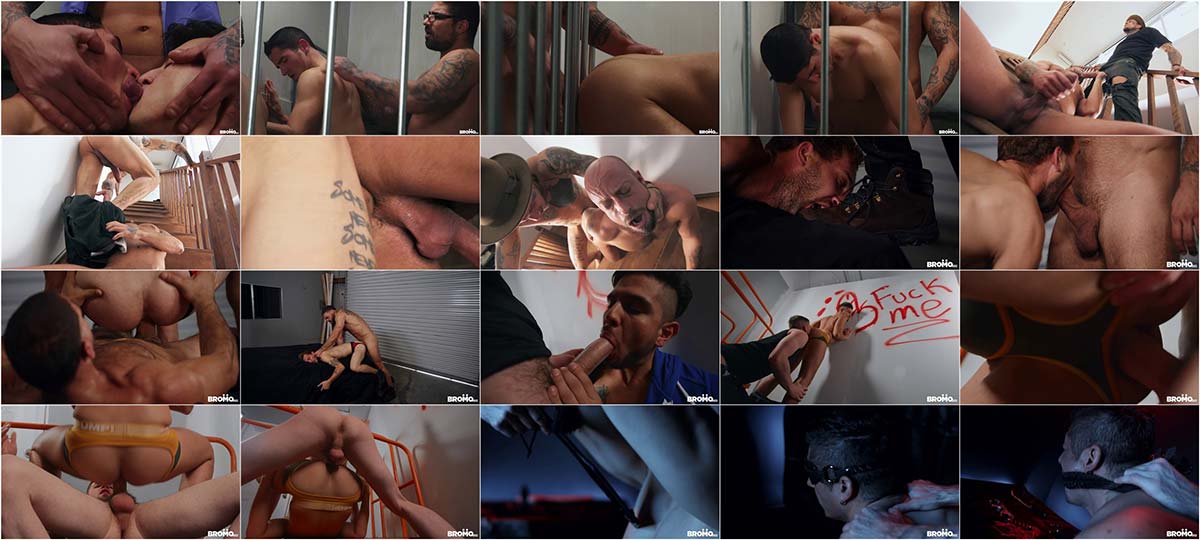 Description:
Prison guard Ryan Bones catches inmates Killiam Wesker and Collin Lust blowing each other and throws them up against the wall. They know better than to pleasure themselves without him! Ryan has the inmates drop to their knees and service his cock as punishment. Slim, tattooed Bo Sinn was on his way downstairs when he found a bald-headed Edan Wolf sitting on the steps butt ass naked, and jerking off his long, hung cock. He couldn't just walk by the muscular hunk without sticking his massive, thick meat inside his mouth, and down his throat. Hands behind his back, face down and ass up, Jesse Prather lies on the bed, exposed, for bearded dom Ricky Larkin's attention. Ricky spanks his sub's pert ass and teases his hole with his fingers before making Jesse lick his boots. Ricky fucks Jesse hard in doggystyle, dominating him with every thrust until he cums. Horny tagger Alex Montenegro puts a deep message in his art as he sprays a large cock and the words "fuck me" on the wall. Property owner Thyle Knoxx isn't pleased about the massive dick art, and he's going to show Alex what a real big dick looks like up close as he pushes Alex to his knees and makes the bottom suck him. The Woods is a place where paths diverge, and Rocky Vallarta isn't finished following where they lead. After trying out the hardest path, Rocky selects the door that bears the sign of the path well-traveled; inside waits for Logan Styles in a harness, with his lovingly laid out bondage tools beside him. The strong dom puts Rocky on all fours to fuck him doggystyle, then removes the blindfold so Rocky can look up at the top as he gets fucked in missionary until he cums. Logan sprays Rocky with his cum, signaling that this path is at an end… but there are still more paths in the Woods to walk.