Studio: William Higgins
Actors: Alan Hemar, Denton Gary, Gerasim Spartak, Jan Nurad, Klark Junak, Leo Dinar
Director: William Higgins
Running Time: 00:57:39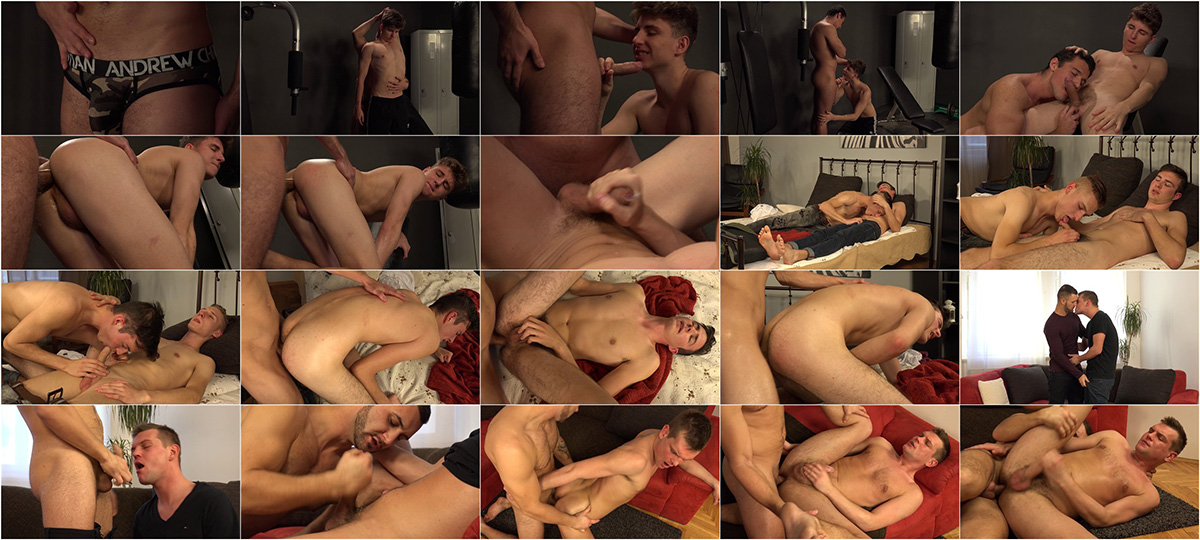 Description:
We have a great pairing in Leo Dinar and Jan Nurad. Leo is doing his workout in the gym using weights. He runs his hands all over his chest, abs and arms and is then joined by Jan who is late. Dropping to his knees Jan pulls down the tight underwear to release Leo's growing cock. He takes the cock into his mouth and sucks on it as Leo's hand guides his head, pulling it onto his dick. Jan stands and bends over, presenting his hot ass. Leo presents his throbbing cock to the ass and slides it deep inside. Leo continues to fuck that ass until he is ready to cum, then he pulls out and dumps his hot load onto Jan's cock and his hand. Klark Junak has an upcoming test and he is worried that he cannot learn everything in time. Luckily, Alan Hemar says he can help him, by relaxing him. Then the two guys kiss as Alan lies down so that Klark can suck on him. He licks and wanks on the throbbing cock for a while and then it is all change. Klark bends over, on his knees, presenting his hot ass and Alan slides his rock-hard dick deep inside. Klark moans loudly as the cock pounds into his hole, fucking him hard. His big cock releases the cum deep into Klark's hole and then Alan pulls out and spreads the ass cheeks to inspect that well used hole. Vladimir Kruty and Gerasim Spartak make a great pairing. These two sexy str8 guys really get into each other as they kiss. Each is soon wanking the other's big stiff cock too. Then Vladimir goes down on his knees to suck on Gerasim's throbbing dick. He licks the belly and wanks that big cock as well as licking and sucking it. His head bobs on the cock. Then Vladimir turns around and presents his sexy ass. He soon feels Gerasim's rock hard dick pushing deep into that ass. Gerasim fucks hard and fast as his dick goes all the way in. Then they move to spoon position, on the floor, so that Gerasim can fuck his cock deep into the eager hole. Vladimir's dick gives up a little more cum too as Gerasim pulls out and cums as well.