Studio: William Higgins
Actors: Alan Hemar, Leo Lombar, Libor Boucek, Mirek Belan, Roman Baren, Zoran Jakotyc
Director: William Higgins
Running Time: 01:01:06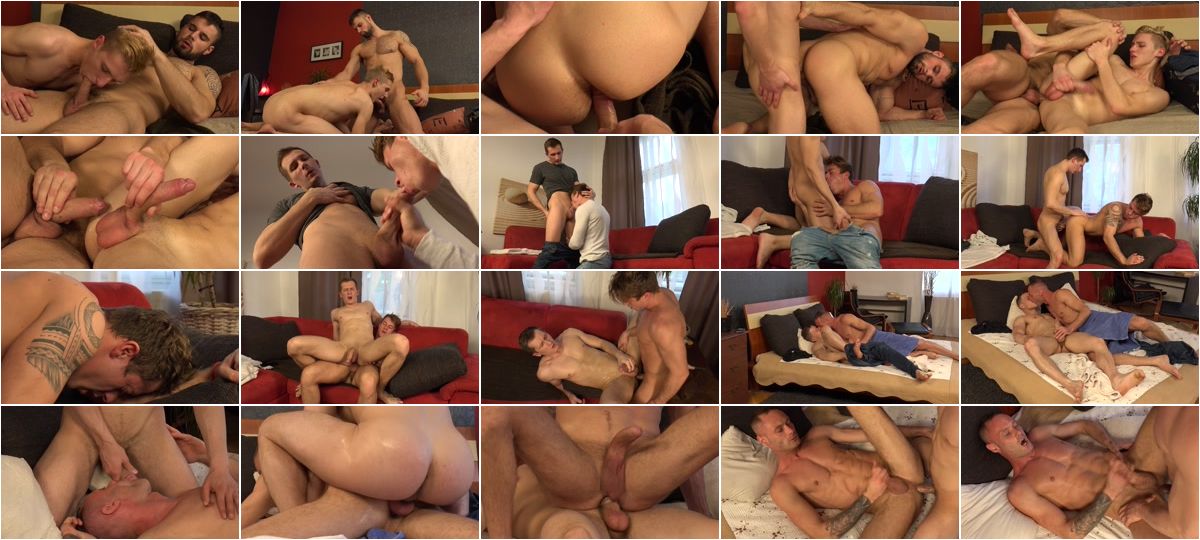 Description:
Hunky str8guy Leo Lombar is playing with slim and str8 Alan Hemar. Alan starts to kiss Leo and then he pulls of both their towels. Alan wanks on the cock as he kisses his way down Leo's massive chest. Then he takes the rock hard cock in his mouth and starts to suck it. Then he kisses Leo again and reaches to pull his dick out. Leo leans over to start sucking on Alan' dick as he wanks his own. Alan' big cock is rock hard as Leo sucks it and laps at the balls too. He licks the balls as Alan wanks himself. Then Leo goes back to sucking before they kiss again. Libor Boucek and Mirek Belan are feeling very horny. Milan reaches around Libor to rub his body through his clothes. Then Libor turns and they begin kissing and feeling each other. Libor drops to his knees and opens Milan's jeans, pulling them down, to release a stiff cock. That fat cock is rock hard as Libor starts to suck on it. He sucks Milan's balls too as he works on that big cock. Milan's hips thrust to fuck the fat cock deep into Libor's eager mouth. Milan pulls Libor's head onto his cock as the hot mouth sucks. Milan removes his tee shirt and then takes off Libor's too as they kiss again. We have two very horny straight guys today, in Roman Baren and Zoran Jakotyc. Roman opens Zoran's jean and pulls them so that he can suck on some cock. He gets his mouth working on that dick, which responds well, growing rock hard in very good time. Roman slides his rock hard dick deep into Zoran's ass and fucks it hard and fast. He turns over wanking more as Roman continues to fuck his hot ass. Zoran's wanking gets faster and faster and then his cock releases the creamy cum as Roman keeps up his fucking. He fucks that hot ass as long as he wants and then lays on the bed to wank his throbbing cock to a very nice cumshot.