Studio: William Higgins
Actors: Alan Hemar, Jeremy Robbins, Maros Tepes, Mojzis Kral, Peto Mohac, Radek Cerveny
Director: William Higgins
Running Time: 01:04:48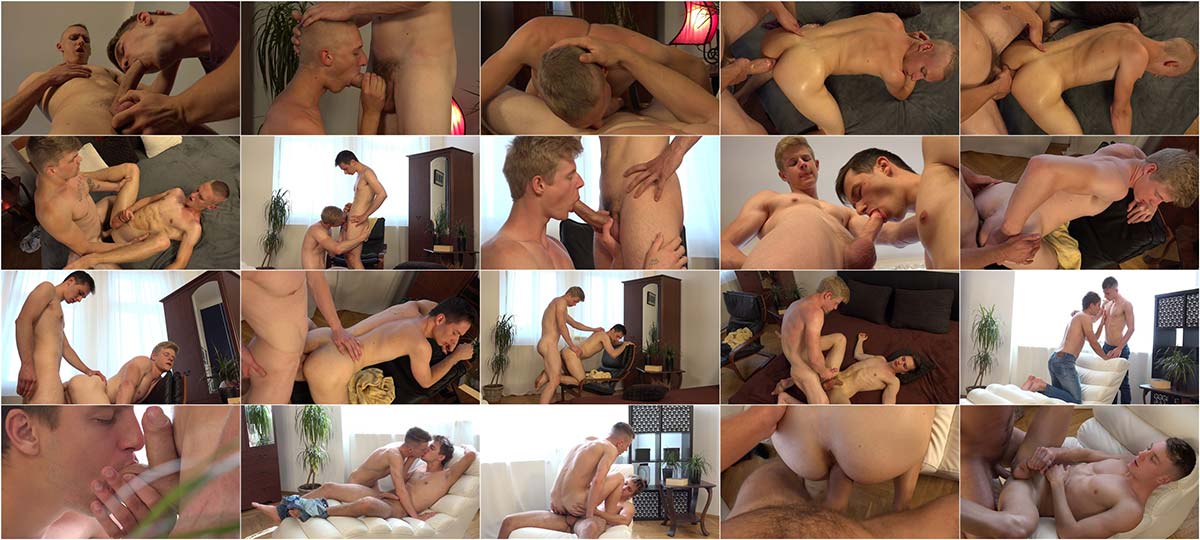 Description:
Mojzis Kral and Alan Hemar are feeling very frisky today. They kiss each other and Alan's tee shirt is removed. Mojzis slides his throbbing cock into the waiting hole. He fucks that hole deep, stretching it wide, with his massive cock. As he fucks that ass Mojzis pulls the cock out and shoves it all the way back inside. He fucks with long, deep, strokes as Alan takes it well. Mojzis continues to fuck that hot ass until he is ready, then he pulls out to dump his cum. Mojzis milks his cock dry before leaning over to kiss Alan again. Maros Tepes and Peto Mohac begin to kiss and Peto drops to his knees and starts to suck on Maros' rock hard cock. Peto then kneels on the chair, presenting his sexy ass. Maros quickly slides his rampant cock deep into the waiting hole. His hips start to thrust as he fucks deep into Peto's hot hole. The big cock stretches Peto's hole as Maros keeps fucking with long strokes. Then he pulls out and Peto stands so they can kiss again. Maros takes his place on the chair, feeling Peto's big cock pushing into his tight hole. He slams his dick in and out of the tight hole as Maros wanks himself. After milking himself dry Peto leans forward so they can kiss once more. Jeremy Robbins is listening to some music and joining in too when Radek Cerveny arrives. He is soon kissing Jeremy, leaning over to kiss his chest too. Turned on, Jeremy turns around and kneels to kiss Radek's chest too. He then starts to wank and suck on Radek's rock hard cock. Then Jeremy fucks his cock up into the hot hole as he holds Radek's ass cheeks. His big cock works that hole hard. Then Radek slides off the cock and kisses Jeremy again before kneeling and presenting his ass for more fucking. Jeremy slides his throbbing cock back into the eager hole and starts to fuck. He milks himself dry as Jeremy continues to fuck. Then he pulls out of that ass and dumps his hot cum onto Radek's sexy body.