Studio: William Higgins
Actors: Jan Nurad, Milos Dena, Ivan Zrzek, Pavol Luner, Ben Stolar, Alan Hemar
Director: William Higgins
Running Time: 00:59:48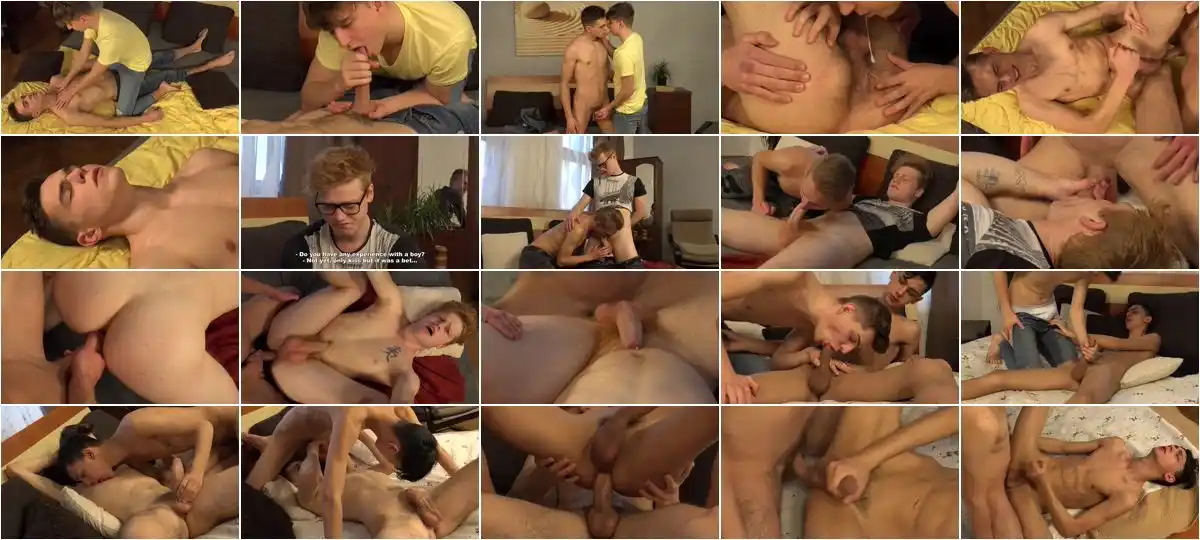 Description:
Milos Dena, a very sexy newcomer gets his cherry busted by Jan Nurad. They kiss and then Milos lays down to be massaged, after removing his tee shirt. Jan straddles him and begins to rub Milos' sexy chest. He leans down and they kiss again. Jan opens Milos' jeans and starts to suck on his cock. Jan then goes back down on that throbbing cock for a while before getting naked himself. They wank each other. Then Jan slides his stiff dick into Milos and starts to fuck hard. Mllos wanks himself as he takes the hard cock deep in his ass. Jan's dick works Milos' hole so Milos shoots his own load onto his belly. Jan pulls out of that ass and wanks himself shooting his creamy load up Milos' hot body. Ivan Zrzek is paired with Alan Hemar to get his cherry busted. They begin by kissing and then feeling each other. Clothes are discarded and jeans are lowered to reveal Ivan's growing cock which Alan quickly takes into his mouth. He sucks hard on that big cock that is rock hard. Then Alan gets naked, releasing his own rock-hard cock. He climbs over Ivan so they can suck each other in a 69. Then Ivan presents his sexy ass for Alan to put his cock in. That cock presses against Ivan's ass as his hips thrust to shove his dick deep into Ivan's hot, tight, hole. For a first-time taking dick, Ivan does very well, as the big cock works his hole. Ben Stolar is the lucky guy who gets to take Pavol Luner's cherry. Pavol strips, to reveal his rock-hard cock which Ben quickly takes in his mouth. He sucks that cock hard as Pavol pushes the head down on the cock. Having sucked each other so well they keep going as they move to 69. Then Ben asks to fuck Pavol, promising to be gentle. Pavol sits his tight hole down on Ben's big cock and starts to ride up and down. He takes that dick deep into his ass, as his own cock flops from side to side. His hole works on that cock as it slides so deep inside. Ben grabs Pavols cock and wanks it.