Studio: William Higgins
Actors: Alexandr Jander, Jeremy Robbins, Josef Usnik, Luky Kolac, Mirek Dujak, Petr Urana
Director: William Higgins
Running Time: 01:06:40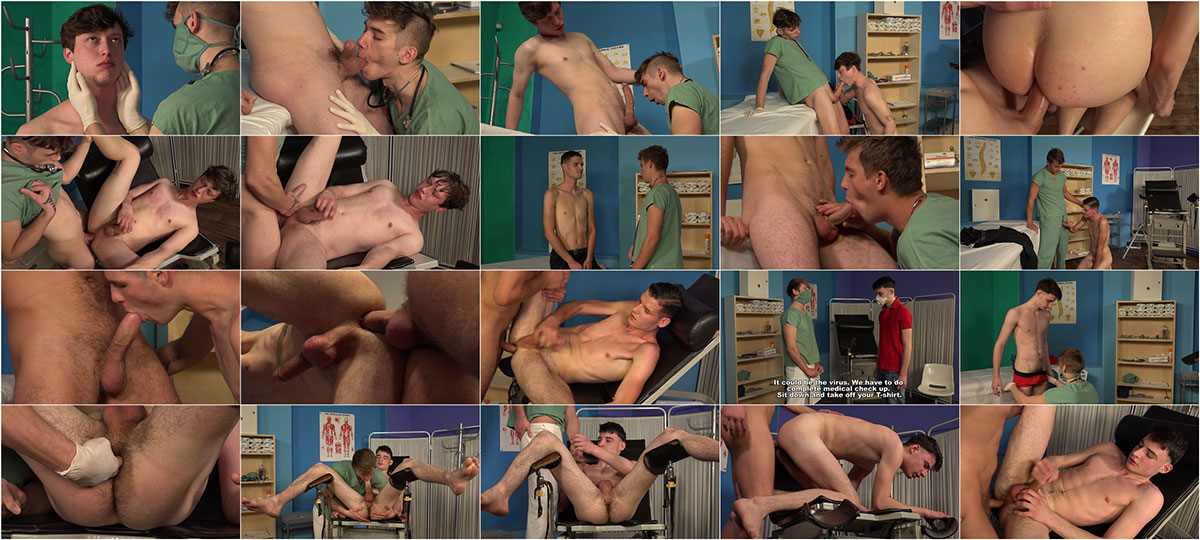 Description:
Dr. Petr Urana is in office when Luky Kolac arrives to be virus checked. Petr puts on some gloves and begins. Luky has to remove his pants to have his groin checked too. Lowering his mask, Peter sucks on Luky's balls and then takes the huge, hard, cock into his mouth. He sucks on the big cock and balls. Luky pushes him back on the table, pulling the pants down. Luky starts sucking on Petr's rock-hard cock as it fucks his face. Then Luky kneels on a chair and presents his ass which soon feels Petr's dick pushing deep inside. That hot ass gets the full length of Petr's cock as he fucks deep. The big cock opens Luky's hole wide as Peter fucks hard into the ass. Dr. Jeremy Robbins is in his office when Mirek Dujak arrives for a Czech UP. Jeremy tells Mirek to remove his shirt and then he checks the chest with his stethoscope. He tells Mirek that he must check the groin, so off come the jeans and Mirek stands naked. Jeremy uses his hands to check the cock and balls. He takes Mirek's cock in his mouth. He sucks on the cock and wanks it. Mirek stands straight as he feels the mouth working on his cock. Then Jeremy asks to fuck Mirek. Jeremy positions himself behind and slides his fat cock into the tight ass hole. That big dick works deep into the ass as Mirek fucks. He grabs Mirek's hips as he thrusts the cock into the tight hole. Dr. Alexandr Jander is on duty today when Josef Usnik attends his clinic reporting a fever. Alexandr decides that a complete check is needed. He tells him to remove his pants squatting down to feel around a little and then says to remove the underwear. That exposes Jozef's cock and balls as Alexander continues his checks. Then Josef is on his knees with Alexandr, naked and hard, behind him. Alexandr's stiff cock slides into Josef's waiting hole and starts to fuck hard. Alexandr fucks that hot hole with his big cock, thrusting deep inside. He pounds the hot ass hole hard as Josef's own cock is rock hard as Alexandr fucks him.