Studio: BROMO
Actors: Dom Ully, Bruno Turbo, Jamie Owens, Ricky, Alan Wood, Dee, John, David
Director:
Running Time: 01:41:30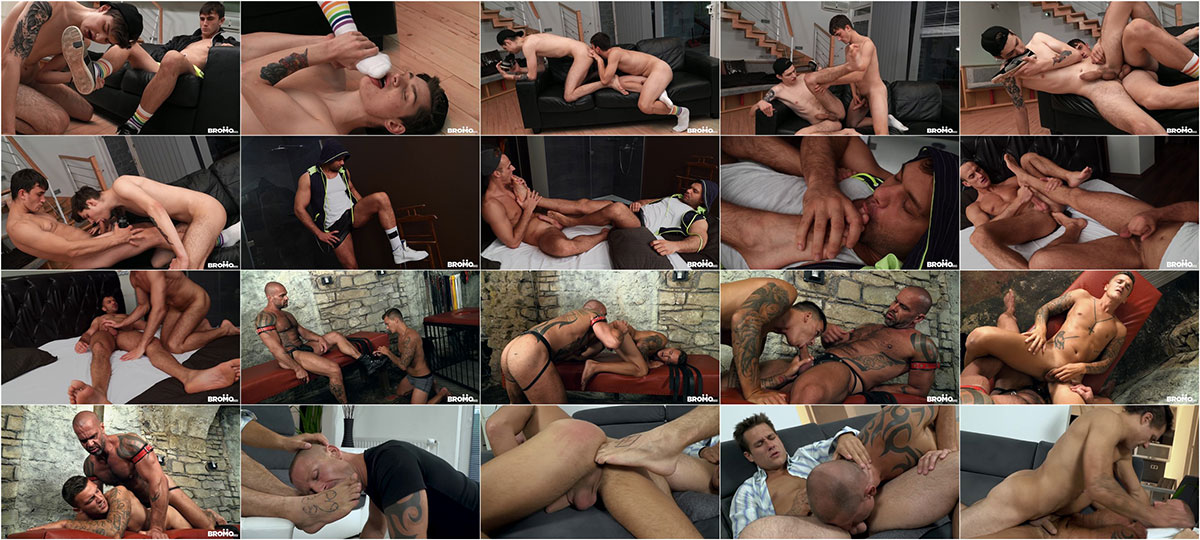 Description:
Twink Falcon is already naked and ready when sneakerhead top John tells him to lick his feet. Falcon gets on his hands and knees to lick and nuzzle John's shoes and socks then smells the inside of John's shoe and licks his socked foot before giving the top a foot job. Falcon sniffs John's shoe as the top licks his ass, then he gets on top to ride John's hard cock. John pounds the shoe-loving bottom in spoon and missionary, then Falcon sucks his cock till John cums all over his kicks and Falcon licks it off. Falcon jacks himself off and cums on John's sock, then licks it all up! Foot-lover David just can't get enough of burly stud Dee's feet. David licks and nuzzles Dee's shoes, then slides them off and worships his socked feet before getting those tootsies naked so he can lick, kiss, and suck Dee's toes. The guys trade foot jobs before David lubes up Dee's foot and slides the big toe into David's tight hole! Beefy muscle master Bruno Turbo has Dom Ully just how he wants him: caged, horny, and ready to serve. Bruno lets the eager submissive out of his cage to worship his feet and Dom happily licks and sucks Bruno's toes before bending over to give the stern master total access to his hole. Bruno gives Dom a rough working over, using the sandy-haired slut's ass as his personal fuck toy and pounding it from every angle. Dom loves every second, letting Bruno's long hard cock push deep inside of him until he blows his load all over his smooth ass. Tall, tattooed Tomi Run crawls over to dark-haired Ricky so he can worship his feet with a little shrimping action. Athletic Ricky rubs his feet all over muscular Tomi's face until he's ready to spread his ass and finger his hole. He loosens his tight hole, inserts his big dick deep inside of him, and doesn't hold back as he shoots a satisfying load all over his face.