Studio: William Higgins
Actors: Klark Junak, Libor Boucek, Nicolas Daner, Nikol Monak, Omer Turkan, Peto Mohac
Director: William Higgins
Running Time: 01:00:48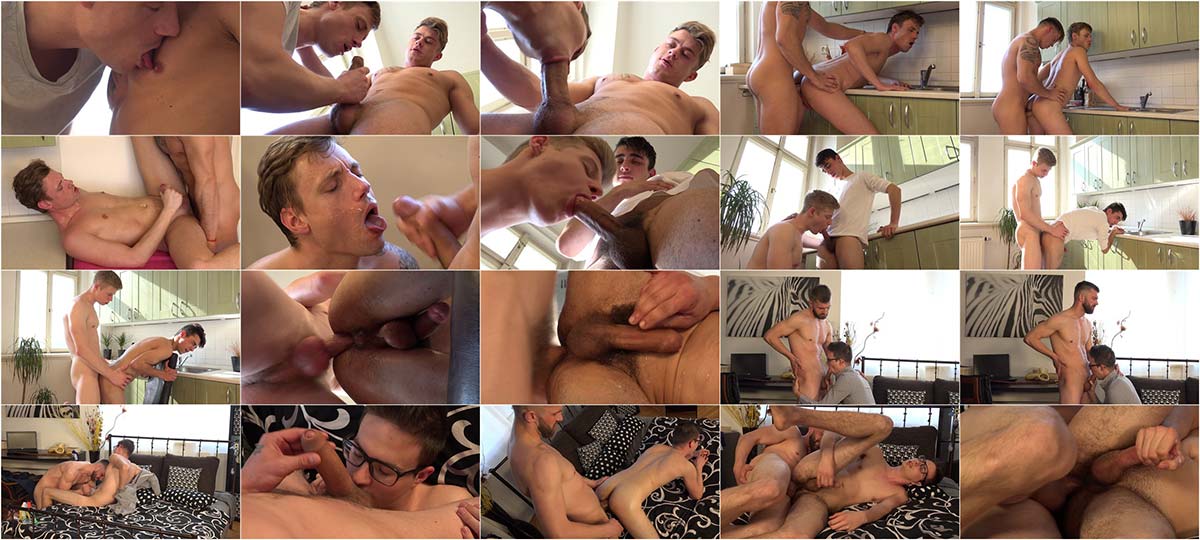 Description:
Libor Boucek is making some breakfast when he is joined by Nicolas Daner whose idea of helping is for them to kiss. Libor turns around so they can kiss and feel each other. As they continue kissing Nicolas removes Libor's tee shirt and then licks and kisses his chest and nipples. He works his way down Libor's body, to the bulging shorts. Pulling the shorts down Nicolas releases Libor's swollen cock. He takes that cock in his mouth and starts to suck it. Sexy str8 guy Omer Turkan is enjoying cooking when he is joined by his buddy str8 guy Peto Mohac. Peto and Omar starts to kiss. Peto opens Omer's shorts, releasing a rock hard cock. He quickly grabs that cock and starts to suck on it. He licks up and shaft and sucks on Omer's cock some more. Omar's hand pushes Peto's head down onto his big, hard, cock. Then Peto helps Omar off with his shorts. That releases Omar's stiff cock. Peto does a good job sucking Omar's cock and balls before fucking his big cock into the waiting ass. Peto's rampant cock pounds deep into Omars's hot hole opening it wide as he fucks deep. Nikol Monak and Klark Junak have been out in the streets to follow the Easter Tradition of flicking the girls with birch twigs. Returning after having fun Nikol suggests they spank each other with them. Klark kneels on the bed presenting his ass, in jeans, for Nikol to whip as he chants. Then Klark sits on the edge of the bed kissing Nikol's body. Nikol strips off, releasing his massive and swelling cock which Klark eagerly takes in his mouth. Nikol moans as Klark sucks that big cock so well. The hot mouth engulfs that big cock and suck it. Then Klark licks up and down the shaft too. Nikol gives the sexy ass a slap too as he fucks deep into the hole. He pulls out and pushes that big cock all the way back inside, fucking even harder.