Studio: William Higgins
Actors: Max Burda, Luky Kolac, Radek Ulba, Peto Mohac, Igor Uran, Milek Jastra
Director: William Higgins
Running Time: 00:55:48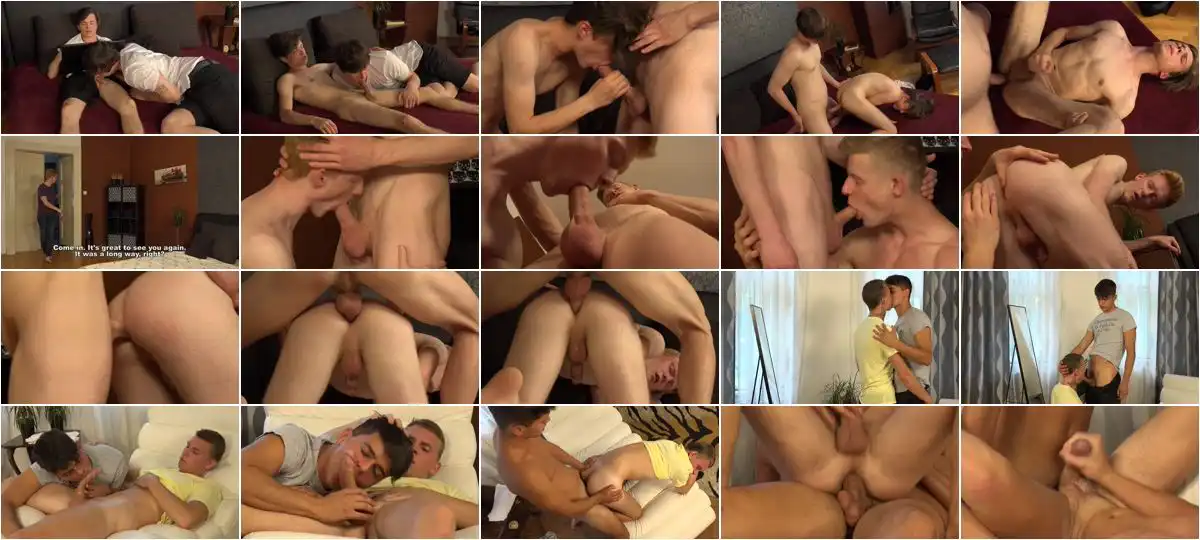 Description:
Max Burda is workng on his laptop, laying on the bed, as he is joined by Luky Kolac who wants to play. Max pushes Luky's head down on the stiff cock, encouraging him to suck. After some foreplay, Max bends over, presenting his sexy ass. Luky responds by sliding his big cock into the waiting hole. That big dick works deep into Max's eager hole as Luky fucks it. Max takes the dick so well. Luky's hips thrust hard as he fucks the hot hole with his big cock. Max turns over, onto his back and wanks himself as Luky's dick fucks his hole some more. He keeps wanking on his own cock as he takes the dick in his hole. He soon shoots a big, creamy, load over his belly as Luky continues to fuck him. Then Luky pulls out and wanks himself to shoot his load over Max's body too. Radek Ulba has a guest, Peto Mohac. They grope each other too and Radek's tee shirt is removed. After some foreplay, Peto stands and slides his rock hard cock into the tight hole. Radek takes it well as Peto's hips thrust the dick so deep into his ass. Peto keeps fucking that hole, his balls slapping against the ass as he goes deep inside. They move to the bed and Peto climbs up to straddle Radek's ass as he keeps fucking deep into the tight ass. Then Radek lays on his back, with his legs up to get fucked more as he wanks himself. Radek soon shoots his load as Peto continues to fuck him hard. Peto pulls out of that ass and move to shoot his cum all over Radek's face. Igor Uran and Milek Jastra are admiring themselves in the mirror. Milek tells him he looks good and turns to kiss him. After some hot sucking foreplay, Milek moves onto his knees, presenting his tight ass hole. Igor's dick slides into that hot hole and his hips start to thrust. Then Milek quickly shoots his cum as he wanks hard while feeling the cock inside him. Igor continues to fuck that eager hole as Milek milks himself dry. Then Igor pulls out of the tight ass and Milek kneels before him to feel the hot cum on his face.