Studio: Ayor Studios
Actors: Garrett Walker, Oliver Novak, Florian Mraz, Max Fillipi, Curtis Fitch, Nathan Hartley, Aiden Pierce
Director: Robert Boggs
Running Time: 01:25:18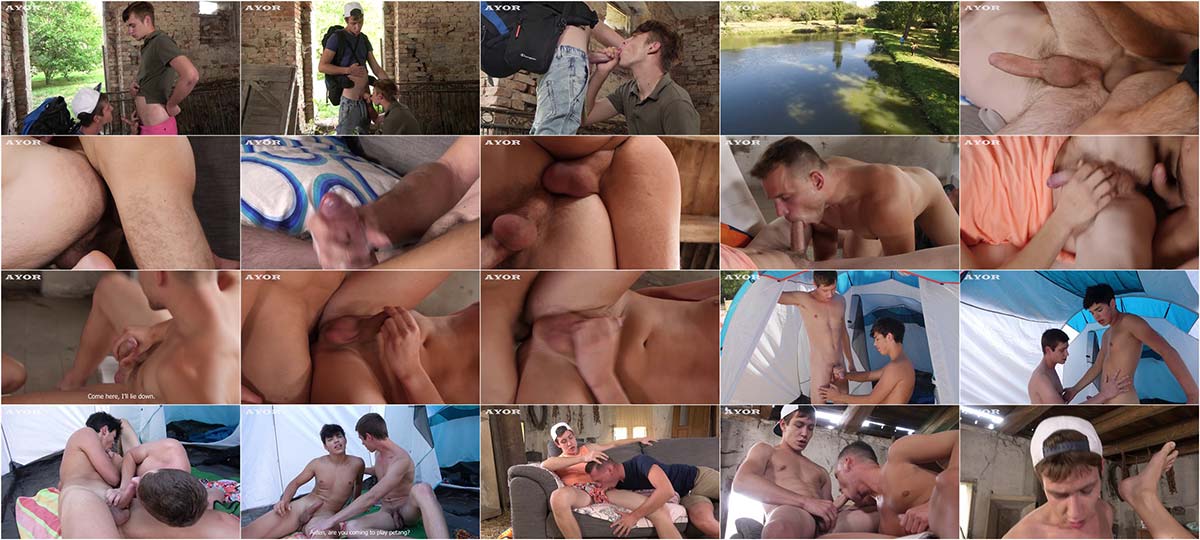 Description:
Ever wondered how it is to mess around with your best buddy from your childhood days? The two 19 year old boys Curtis and Nathan are eager to find out, and luckily, they allow us to watch every sordid detail of their horny escapade! Before they have a very good bareback fucking time, with two very sticky climaxes at the end in the attic of an old barn, we can watch sexy Oliver cumming all over a handsome village boy! That's a very nice reward for giving Oliver something to drink and showing him the way to the campground, don't you think?
What's better than a boy who can play with some balls? A boy who can play with HIS balls! When sexy Oliver heads to the changing room to get ready for a swim in the nearby lake, he meets big-dicked fucker Florian, who can not just impress with his talent to play with small balls, but also exactly knows how to worship Oliver's tight boy arse with his aching boner! Florian fucks Oliver right there in the changing room, and empties his own balls just moments after Oliver's sticky climax!
Get yourself ready for another ball-bustin' double-feature with big dicked fucker Florian seducing innocent twink boy Max in the camping ground's changing room; and later, our sexy protagonist Oliver gets sucked off by new boy Aiden in a tent! But first things first! Florian once again manages to bend a new boy over and fuck him with his adorable piece of man meat; and if that isn't enough already to get even the most experienced porn connoisseur close to his climax, we get another great cumshot from dark-haired Aiden, who feverishly sucks Oliver's cock like a real pro, before both boys unleash fabulous fountains of fresh boy juice!
On a summery, hot day, sexy Oliver decides to explore the surroundings of the camping area. He discovers an abandoned-looking old house, but the boy who comes out, Max, is anything but old! Quite the contrary, the young man is eager to show Oliver the house from inside, and leads him to his couch which stands in the hay. With some indiscreet questions, sexy Oliver manages to get Max's head between his legs, and just moments later he fucks the young lad's tight ass for all he's worth. Two nice cumshots round up a very hot, and very sticky time at the camping ground!