Studio: William Higgins
Actors: Hugo Antonin, Igor Uran, Ivan Jurdan, Milos Dena, Robin Tesarek
Director: William Higgins
Running Time: 00:52:18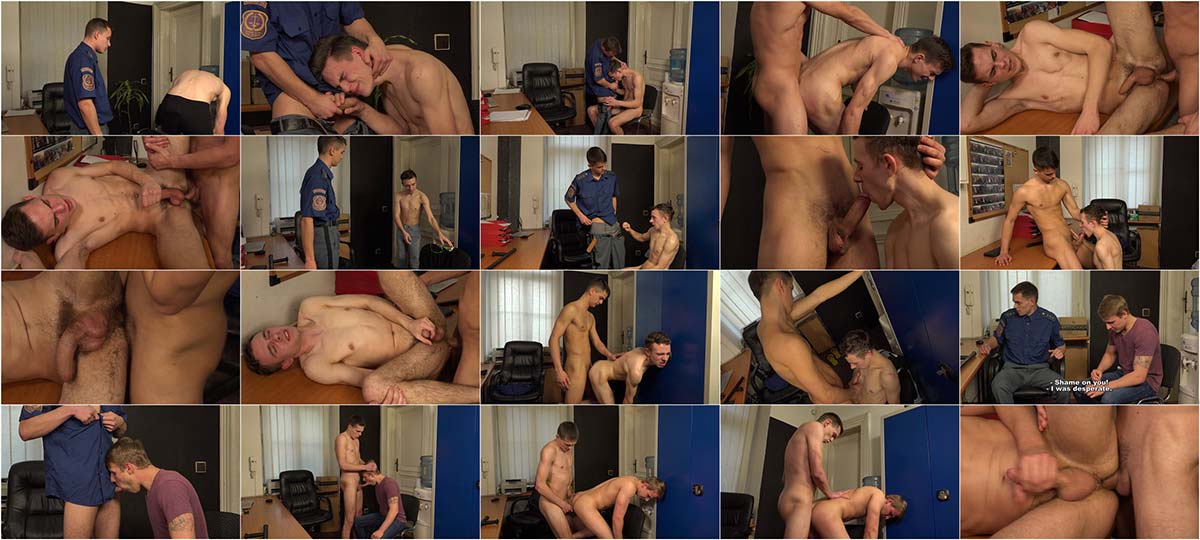 Description:
Hugo Antonin has to interview a rather subdued Milos Dena about suspected stealing. As he is interviewed Milos denies stealing. It seems that Milos was caught on camera, stealing a wallet. Hugo explains that he has to do a thorough search to be sure. Hugo sees this as a chance to have some fun, instead of calling the police. He makes a protesting Milos wank him. He tells Milos that he must suck the cock. Hugo turns him over, onto his knees and he shoves his stiff cock into Milos' tight ass. His cock is rock hard as he wanks it and soon he dumps his hot cum over the desk and his hot body. Hugo pulls out and shoots his creamy cum too. Igor Uran has arrested Ivan Jurdan, who he has seen stealing a wallet. He brings Ivan into the office to confront him about it. He asks Ivan to confess, which he does, to avoid police involvement. Ivan hands over the wallet, but Igor isn't finished. He insists that he must search Ivan to ensure nothing else has been stolen. Igor has a plan which involves him being satisfied sexually before releasing Ivan. Very quickly Ivan's mouth is on the big cock sucking it hard. That big cock is standing proud as Ivan lays on the desk and feels it being pushed into his ass. The big cock fucks hard into Ivan's hole as he grabs his own cock and starts to wank it. He shoots his creamy cum as Igor fucks his ass hard. Igor wanks his cock to cum on Ivan's chest. Robin Tesarek has been apprehended, suspected of stealing. Milos Dena is the security guard in charge and threatens to call the police unless Robin returns the stolen money. Milos has an idea how Robin can avoid the police being involved. Robin eventually has to agree to suck on Milos's rock-hard cock. Soon that big cock is pushing deep into Robin's hot ass hole and fucking it hard. Robin's cock is hard too as he is fucked so well. Milos pulls out of the ass and unloads his cum onto Robin's hot body.